Why are you thinking about Guardianship?
Someone may be telling you that you or someone you love needs to have a guardian. It might be school staff (schools routinely send out a letter about guardianship when a child who has an IEP turns 17), a medical professional, a service coordinator, or even another parent.
There is often a general assumption that just because someone has a disability, mental health diagnosis, or is aging, he or she will need a guardian. In reality, everyone is presumed competent to make choices about their own lives when they become an adult, unless a court says otherwise. With the right supports, many people with disabilities or special healthcare needs are able to remain "their own person," making their own decisions and being in charge of their own lives. The trick is to find a balance- giving the person enough support and protection so they can live a safe and healthy life without taking away their rights and freedom to make choices and decisions for themselves.
There are a lot of reasons why individuals with developmental disabilities, their families, and key supporters might be considering their guardianship options and alternatives for decision making support and/or protection. For example:
You have a child with a developmental disability close to the age of 18.
You have been told by an educator, service provider, or other professional that you need guardianship to maintain your rights to provide support and/or protection for someone you care about.
Someone is pressuring you to file for guardianship.
You or someone you know is, or is at risk for being, taken advantage of by others.
You have fears and concerns in relation to your current guardianship status.
You currently have a guardian, but don't think you need one, or you don't agree with the decisions they are making for you.
The individual you are concerned about currently needs protection or assistance.
You are seeking information about guardianship because someone you care for or someone you work with is experiencing a difficult time.
Before pursuing guardianship, it is important that you consider whether guardianship will achieve the outcome you desire. Guardianship is not a quick fix, it is a legal action that limits or denies a person the right to make their own decisions. It is important to consider the individual's needs for support and/or protection and then ask, "How will having a guardian address each specific need?"
This website will provide you with information and tools you need to figure out which of the options and alternatives fit your family's unique situation. Use the options below to navigate or the menu at the topic to jump to the section you would like to view.
View the MOG training schedule or watch online >>
Read materials that explain guardianship >>
Watch personal stories from people in Missouri about guardianship >>
the training
Join us for a FREE workshop that will help you explore the options and alternatives to guardianship in Missouri! Two sessions available!
No workshops scheduled at this time. However, you may also watch the online training at any time!
Watch MO Guardianship: Understanding Your Options & Alternatives online
If you would like more information on hosting the training at your organization by using MO Guardianship materials, please contact (800) 773-8652 or email stjohnj@umkc.edu
materials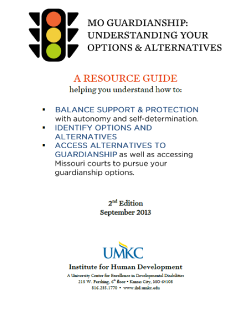 MO Guardianship Resource Guide: 2nd Edition
Revised September 2013
Provides detailed and complete information on guardianship alternatives and options in written form.
For: Families, Self-Advocates, Professionals
Open the guide to download or print [PDF] >>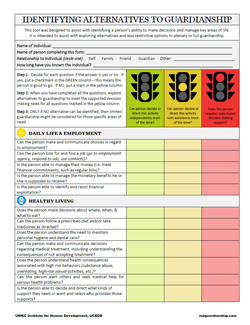 Identifying Alternatives to Guardianship Worksheet
"The Stoplight Tool" 2nd Edition
Developed 2015
The Stoplight tool was reorganized using the LifeCourse life domains and updated with more user-friendly language and the MO Guardianship project branding. Learn more about Life Domasins and the LifeCourse at lifecoursetools.com.
For: Families, Self-Advocates, Professionals
Open the Tool to download or print [PDF] >>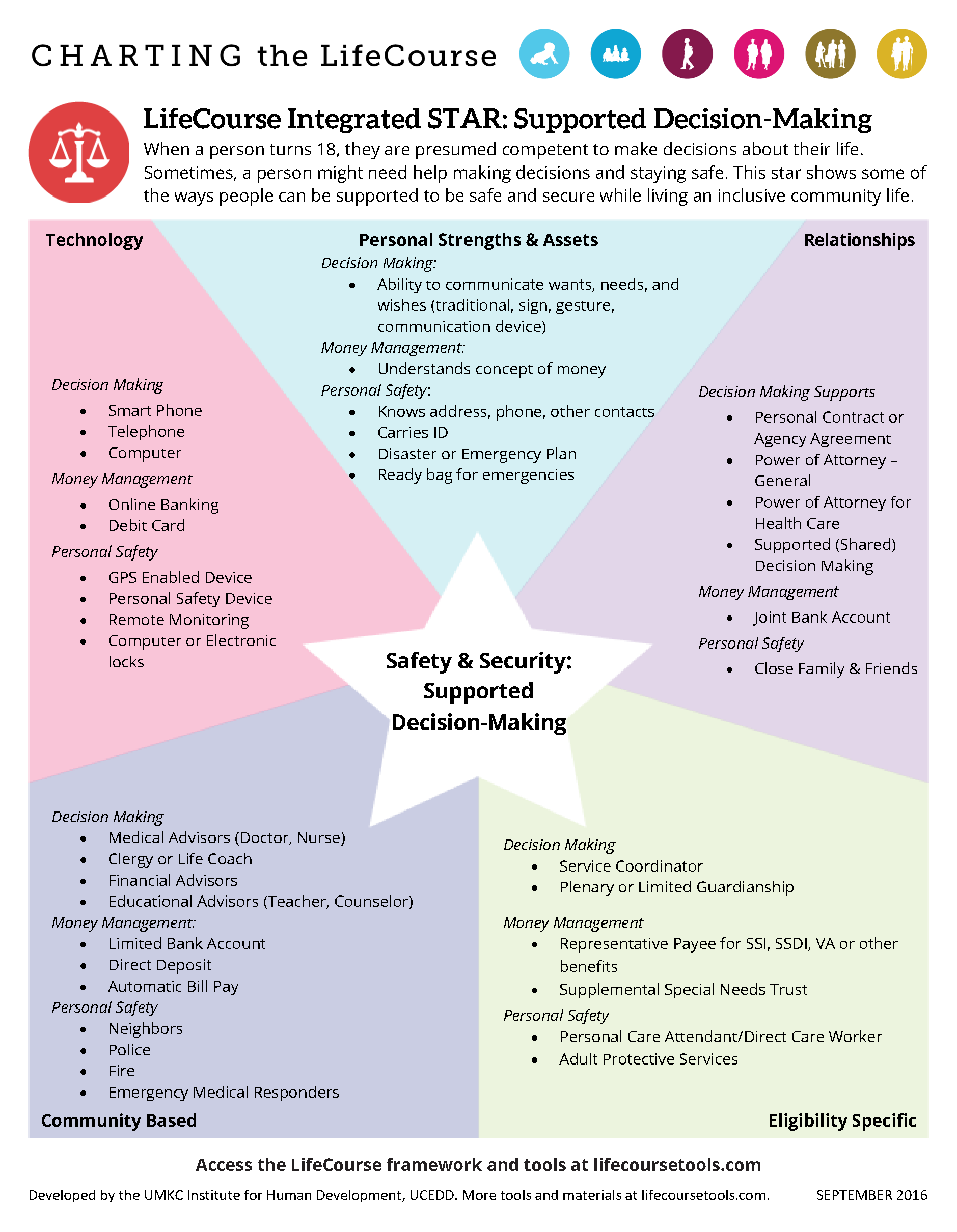 LifeCourse Integrated Supports Worksheet
Focusing on Guardianship
Developed 2015
Organized the alternatives to guardianship into the categories of the Integrated Supports Star. Learn more about Integrated Supports and the LifeCourse at lifecoursetools.com.
For: Families, Self-Advocates, Professionals
Open the Worksheet to download or print [PDF] >>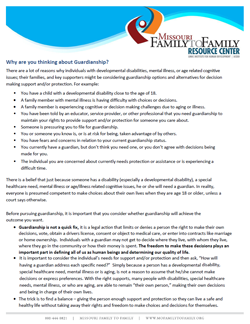 MOF2F One-Page Handout on Guardianship
Developed 2013
Created by Missouri Family to Family in August of 2013 to provide a quick overview of guardianship and the alternatives and point individuals, families and professionals to where they can find more information.
For: Families, Self-Advocates, Professionals
Open the Handout to download or print [PDF] >>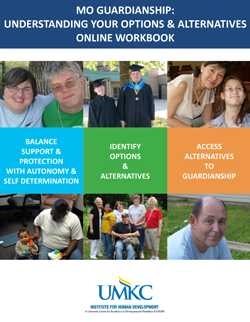 MO Guardianship Online Workbook
Developed August 2011
Interactive, multi-media information that can be accessed anytime, in total, or in specific sections
For: Families, Self-Advocates, Professionals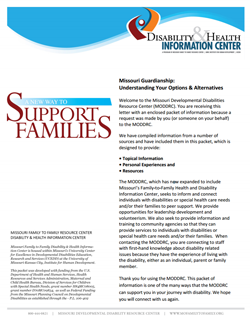 F2F Information packet
Developed June 2011
Concise, quick, easy to read information on guardianship options and alternatives
For: Families, Self-Advocates, Professionals
Open the information packet to download or print [PDF] >>
videos
These personal stories from families and professionals in Missouri are intended to help you understand how guardianship works in Missouri and how to explore the options and alternatives that work best for your family.
about
The Alternatives to Guardianship Project is collaboration between the UMKC-Institute for Human Development, UCEDD; the Missouri Developmental Disabilities Council, Missouri Protection & Advocacy Services, and the Missouri Department of Mental Health and is funded in part by the MODDC under provisions of PL 106-402, the DDA and Bill of Rights Act.